Pelé, Brazil's Greatest Footballer Dies At 82
All You Need To Know About Brazilian Football King.
Pelé, Brazil's Greatest Footballer Dies At 82
Incredible and undisputed football legend, Pelé is said to have died at the age of 82 after battling with Colon Cancer.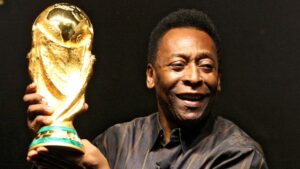 Edson Arantes Do Nascimento, known as Pelé worldwide was born on 23rd October, 1940.
He had died aged 82 following a period in Albert Einstein Israelite Hospital in São Paulo, having had a tumour removed from his colon last year.
Who Is Pelé?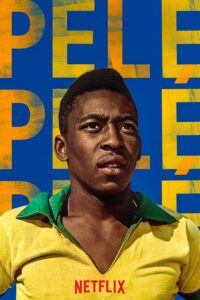 The Brazilian was the only player ever to have won the World Cup three times, in 1958, 1962, and 1970 including at the age of just 17 .
Pele was a legend who started his football career when he was just 15 at Santos in Brazil.
He was one of the most phenomenal people of the 20th Century, and one of the first black global sports icons.     
Pele, who was adored the world over, also fathered seven children. He was also the former Minister of Sports in Brazil. His death at the age of 82 leaves the sport world in mourning.
FAQs
Why is he called Pele?
Pelé was born Edson Arantes do Nascimento on October 23, 1940. His parents named him after inventor Thomas Edison. He got the nickname Pelé when he was a young boy and had trouble pronouncing the name of his favorite player, a goalkeeper named Bilé who played with his father at a local club.
How many goals has Pele scored in his whole career?
He was nicknamed O Rei (The King) following the 1958 tournament. He is the joint-top goalscorer for Brazil with 77 goals in 92 games. At the club level, he was Santos' all-time top goalscorer with 643 goals in 659 games.
Read Gift Nna's Story of How Being A VoiceOver Artist Was An Accidental Passion Here.
What is O Rei famous for?
O Rei was a world-famous soccer player from Brazil. He was known for his tremendous speed and balance, his jumping and ball-controlling abilities, and his spectacular goals. During his career, he played in 1,363 games and scored 1,281 goals.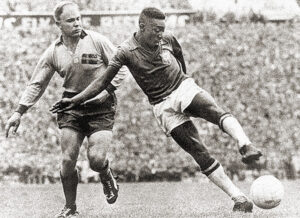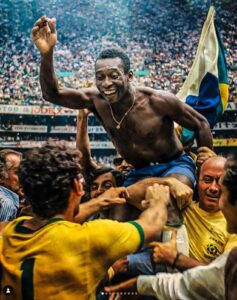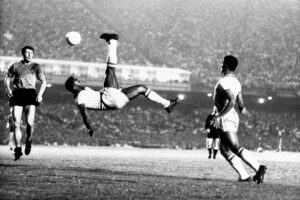 Did O Rei win a World Cup?
He says he promised he would bring the Jules Rimet trophy back to Brazil one day. But even he himself couldn't have imagined it would be only eight years before he fulfilled his promise – and he remains the youngest ever World Cup winner, at 17 years and 249 days.
How many red cards O Rei got?
He has received 2 yellow cards and 0 red cards.
Who is known as the God of the football?
Pele- God of Football
Real name Edson Arantes do Nascimento, is one of the greatest footballers of all time and was named "the greatest" by FIFA, also known as God of Football in the world. He was an absolute machine when it came to scoring a goal.
Who is most goal scorer in the world?
Pelé, with 762 official goals according to the IFFHS, held the world record for around 50 years. Josef Bican is credited by FIFA with 805 goals. Robert Lewandowski, the most recent to score 500. Alfredo Di Stéfano, the first South American to score 500.
Which player scored 1,000 goals?
Brazilian soccer great Edson scores his 1,000th professional goal in a game, against Vasco da Gama in Rio De Janeiro's Maracana stadium. It was a major milestone in an illustrious career that included three world cup championships.
Why Pele is better than Maradona?
He is the only footballer to win three World Cups, and has scored over 1,000 goals in his career. He was an extremely revolutionary player, more so than Diego Maradona.
Who has more goals than Pele?
Barcelona celebrated in December 2020 when Messi scored his 644th goal for the Spanish club, surpassing the 643 competitive goals O Rei scored for Santos. Two months later, Cristiano Ronaldo scored his 768th goal, three more than Pele's total, including international goals.
Is Pele top scorer?
At the FIFA World Cup, Pele has scored 12 goals in 14 matches played across four editions – the second-most by any Brazilian player in the quadrennial showpiece after Ronaldo. The three-time World Cup winner is also joint-sixth in the list of highest goal scorers at football World Cups.
This article was written to enlighten you on the life of football legend, Pelé.
If you got value, share this article with your friends on social media platforms to show your support.
Do not hesitate to use the comment space below if you have any questions, concerns or thoughts.