A pharmacist is a healthcare professional who prepares and dispenses medications needed to treat illnesses and improve patient quality of life. Learn how to become a pharmacist, as well as what paths you can take once you've earned your pharmacy degree.
They are professionals specialized in the usage and administration of medication. They dispense prescriptions to patients upon receiving a physician's orders. Pharmacists are experts on how drugs work and interact with the body so that patients who take them achieve the best possible results.
Pharmacist Salary in Ghana
The average salary of a pharmacist working in Ghana is around 3,000 to 3,500 GHS per month depending on the location, years of experience,  skills, and qualifications.
But according to salary explorer, the average salary for a Pharmacy Manager in Kumasi, and Accra Ghana is around GHS 8,197 and GHS 8,535 respectively.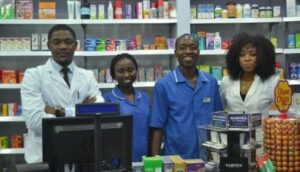 What does a pharmacist do?
The duties of pharmacists include:
Checking a customer's history to ensure their new medications won't interfere with their old ones
Giving vaccines, like the flu shot
Testing a customer's blood sugar, cholesterol level, or blood pressure
Teaching customers how to take their medicine safely and effectively
Consulting with doctors and other healthcare professionals about prescriptions for specific customers
Providing basic wellness screenings
Managing the pharmacy, including pharmacy techs and assistants
Negotiating with insurance providers
Maintaining customer records
Recommending over-the-counter medication
Providing basic health advice on topics like stress management, nutrition, how to stop smoking, and other lifestyle changes
Requirements for pharmacists
Core Subjects: Credit passes in English Language, Mathematics, and Integrated Science or Social Studies. Elective Subjects: Credit passes in Biology, Chemistry, and Physics or Mathematics.
The entry for this level is after the completion of 10 years of formal schooling. A diploma in Pharmacy is a three-year course after SEE. The students after passing the SEE securing a minimum of 45% result in aggregate and willing to seek their future career in the field of pharmacy profession can join the course.
Applicants must be at least 25 years with a Science background – Chemistry, Biology and either Physics or elective Mathematics- and must pass an examination conducted by the University. Such applicants must be holders of Bachelor of Science-related degrees.