The Ghana Education Service has officially opened the processes to commence applications for this year's study Leave pay for teachers within the service.
GES has given the directives on who qualifies for study leave with pay and which subjects will attract study leave for this academic year.
Individual teachers interested in applying for study leave are expected to complete and submit application forms at the District level for onwards submission to the Regional Director of Education. The regional level will compile the list of Beneficiaries and submit to Accra based on a given quota to the region. This actually mean that not all qualified applicants will actually get the chance to go on study leave. Long service or the number of years of service, whether the choice of course is competitive in terms of how many teachers are applying for that course and whether one is in deprived location or not which also gives competitive edge. Below are the directives on study leave for this academic year.
For the 2023/2024 Approved Courses are displayed below;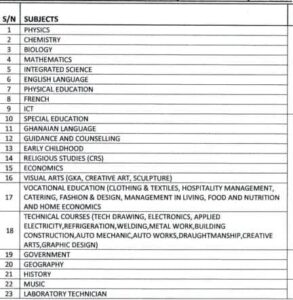 For the 2022/2023