Tears of Joy:Lady thrills many with Excellence at Garden City Graduation after years of poor records
When Lady was in her primary school level, things appeared so tough for her in her academic journey. Her siblings got worried, and on a more higher scale of anxiety, her parents did not know what to do. Her grades kept falling. This forced her to voluntary repeat herself in primary three. She became a laughing stock, and friends could not just stop mocking and making fun of her. A dump child many described her, but Lady never gave up! After all the rejections and stigmatization, she saw her light into the Senior High School level, precisely, Kumasi Girls' High School.
Failure never stopped chasing her, until she finally grabbed it, and took control over it. She gained admission to study Business Administration (Management option) at the Garden City University. Surprisingly, and out of nowhere, as some may describe it, Lady Wendy climbed to the top as the Best Female Graduand in the School of Business, Garden City University. She was adjudged the "Best Female Graduating Student" in her faculty. She was among the few students who had first class in that faculty.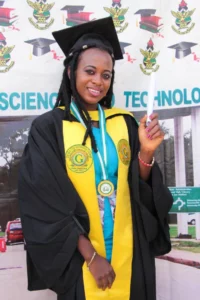 Lady Wendy Prempreh, the hottest graduate in town at the moment wrote: "I didn't make the very best of my high school days academically, On top was a lot of teases and Mockery so I challenged God with my substance I top it up with hard work. A new beginning, a new phase of my life, I made a resolution!
I made a resolute decision, prayed about it and worked really hard towards it. I started school on a rough notice but God pulled me through!! Today, I am not just a graduate but a First class student and the Best Female Student in my Faculty .
I owe it all to God, my family and friends for the encouragement."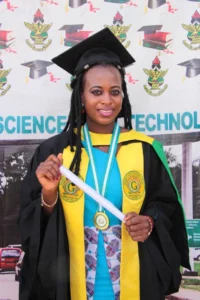 A sibling of hers also wrote: