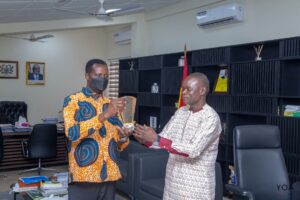 The leadership of the Technical Universities Teachers Association of Ghana (TUTAG) has honoured the Minister of Education, Dr Yaw Osei Adutwum with a citation.
He was honoured for his contributions towards improving the standard of technical education in the country as well as improving the welfare of members of TUTAG.
The Education Minister was presented with a citation, a plaque and a smock.
The President of TUTAG, Dr Michael Akurugu Brigandi, presenting the citation said the Minister was fulfilling promises and this he started as soon as he was sworn into office.
Fulfilled promises
He mentioned the issues the Minister of Education has resolved as improving the conditions of service, scheme of service, accreditation issues, research allowance arrears and migration of the Bolgatanga and Wa branches of the group unto the Tertiary Education Workers salary structure.
The TUTAG President recounted how the members of TUTAG declared a strike action this year and Dr Adutwum met them and promised to fulfil his promise of resolving all their needs, which he said he proved them wrong by fulfilling them.
"To show appreciation to him for fulfilling his promises to the group, we are so happy that we feel the whole world should know about it". Dr Akurugu Brigandi said.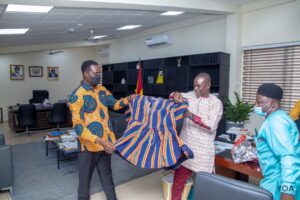 The Citation
The content of the citation presented read:

"Mother Ghana needs political leaders who walk their talk.

Labour Unions need political leaders who are task master instead of talk masters.

The future of this country lies in the hands of Educations Ministers who know the value of education.

A good political leader is one who knows what his Ministry needs and the steps to take to get it.

The TUTAG members in Ghana need an Education Minister who understands the value of technical education.

TUTAG finds all these in you as a Minister of Education, and will continue to uphold you as such".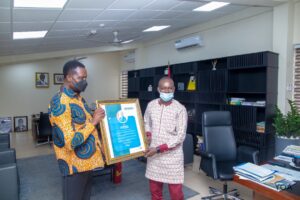 Adutwum's comment
Dr Yaw Osei Adutwum, thanked the leadership of TUTAG for the gesture and pledged to continue working hard for the good of the country.
He said. "I was appointed to promote the development of education so there is no way I would do anything contrary to the purpose of my appointment".
The Education Minister pledged to continue working very hard to support the development of education at all levels in the country to promote the transformation agenda of the country.