Top 20 Nursing Training Schools In Ghana
All You Need To Know About The Best Nursing Schools In Ghana
Top 20 Nursing Training Schools In Ghana
Wikipedia defines A Nursing School consists of the theoretical and practical training provided to nurses with the purpose to prepare them for their duties as nursing care professionals.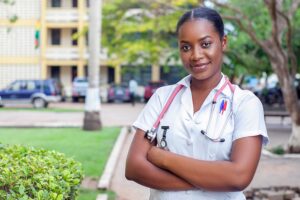 There are approximately seventy-nine(79) nursing training colleges in Ghana.
You will agree with me that; among clusters of schools, certain schools always stands out right?
Below are the list of top 20 nursing training schools in Ghana according to the 2022 ranking.
Top 20 Nursing Training Schools In Ghana
Agogo Nursing & Mid-wifery Training College
Kumasi Nurses' Training College
Offinso Midwifery Training School
Premier Nurses' Training College
St. Patrick's Midwifery Training School
Berekum Nurses' Training College

Nkawkaw Nurses Training College
Check Out the best Colleges of Education in Ghana Here.
Sunyani Nurses' Training College

Tibie Nurses Training College
Ankaful Nurses Training College
Cape Coast Nurses' Training College
Christian Healthcare Training School
Agogo Presbyterian Nursing Training College
Community Health Nurses' Training College
Holy Family Nurses Training College
Koforidua Nurses Training College
37 Military Hospital Nurses Training College
Narh-bita School of Nurs

ing
Nightingale School Of Nursing

FAQs
Which course is best for nursing in Ghana?
Central University is one of the best private nursing training schools in Ghana. While the university does not have many courses for nursing students, the BSc Nursing Degree programme attracts hundreds of applicants each year.
To qualify for the nursing course, you must be 18 to 35 years old.
Which nursing course is the best?
Undoubtedly, if a person wants to make a magnificent career in the sphere of the healthcare industry, then B.sc Nursing course is better than General Nursing and Midwifery (GNM). In the matter of career growth, higher studies, and salary the value of B.sc Nursing is more than General Nursing and Midwifery (GNM) course.
What are the 3 types of nurses?
The three most common types of nurses are
Licensed Vocational Nurse (LVN)
Registered Nurse (RN)

Advanced Practice Registered Nurse (APRN)
Which nurse gets highest salary?
The Certified Registered Nurse Anesthetist consistently ranks as the highest-paid nursing career. That is because Nurse Anesthetists are highly skilled Registered Nurses who work closely with medical staff during medical procedures that require anesthesia.
Which nursing is the easiest?
Working as an RN in post-op can be one of the easiest nursing jobs to get into for nurses who want to work in a hospital. The environment is more laid back and subdued than many units with a reasonable load of patients to tend to.
Is a 3.8 good enough for nursing school?
GPA requirements vary from school to school, and some early admission nursing programs require an even higher GPA of at least 3.8 or higher (weighted or unweighted). In general, you can expect that any highly competitive nursing program will have a high GPA requirement for applicants.
Who is the mother of nursing?
Florence Nightingale, the founder of modern nursing of professional nursing, was born in Florence, Italy, on 1820, in an English family; she was named of the city of her birth.
It is because of her research and her knowledge that we have many of our sanitation procedures. She gained much of her information from nurses she personally trained, and she operated during the Crimean War in the 1890s.
Who is the mother of nursing in Ghana?
Kisseih was the founder and first president of the Ghana Registered Nurses Association (GRNA) formed in 1960 by a merger of two other nursing bodies, one led by her. She also served on the National Health Planning Committee and the Nurses and Midwives Board.
Who qualify as a nurse in Ghana?
Registered General Nurses i.e. those who have undergone a three -year (Diploma) or four year (Degree) course in nursing in accredited institutions.
Registered Midwives i.e. those who have completed a three -year course on midwifery in accredited institutions.
Who was the first boy nurse?
It took more than five decades- and many letters to Congress–but by 1955, the Army Nurse Corps commissioned its first male officer. Lieutenant Edward T. Lyon became the ANC's first male nurse. This was a turning point for men in military nursing.
This article was written to enlighten you on the top 20 Nursing Training Schools in Ghana.
If you got value, share this article with your friends on social media platforms to show your support.
Do not hesitate to use the comment space below if you have any questions, concerns or thoughts.