University of The Witwatersrand: A Leading Institution in South Africa
All You Need To Know About Wits
Discover the University of the Witwatersrand (Wits), one of South Africa's premier educational institutions. Read our content to learn about its rich history, academic programs, notable alumni, and frequently asked questions.
The University of The  Witwatersrand, commonly known as Wits, is a renowned university located in Johannesburg, South Africa. Established in 1896, Wits has grown to become a leading institution in the country, consistently ranking among the top universities in Africa. In this content, we will delve into the university's fascinating history, explore its diverse academic programs, highlight notable alumni, and answer some frequently asked questions about Wits.
MUST READ: How To Apply To STU For The 2023/2024 Academic Year.
Wits has a long and storied history that dates back to the early days of Johannesburg's gold rush. Originally founded as the South African School of Mines in Kimberley, the institution moved to Johannesburg in 1904 and was renamed the Transvaal University College. It later evolved into the University of Witwatersrand in 1922, offering a broader range of academic disciplines.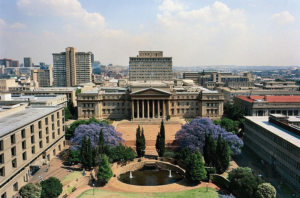 Academic Programmes In University of The Witwatersrand (Wits)
Wits offers a wide range of undergraduate and postgraduate programmes across various faculties and schools, including the faculties of Commerce, Law, Engineering, Science, Humanities, Health Sciences, and the Wits Business School. The university is known for its strong emphasis on research and innovation, and it boasts numerous research centers and institutes that contribute to advancements in various fields.
Notable Alumni Of University of The Witwatersrand (Wits)
Wits has produced a multitude of accomplished alumni who have made significant contributions to their respective fields. Some notable alumni include:
Nelson Mandela:

The iconic South African leader and anti-apartheid activist who went on to become the country's first democratically elected president.
Robert Sobukwe:

A prominent anti-apartheid activist and founder of the Pan Africanist Congress.
Sydney Brenner:

A Nobel laureate in Physiology or Medicine for his groundbreaking work on the nematode Caenorhabditis elegans.
Nadine Gordimer:

A Nobel laureate in Literature and renowned author, known for her powerful writings on apartheid and its aftermath.
READ ALSO: How To Apply To ATU For The 2023/2024 Academic Year.
FAQs
How do I apply to Wits?
Prospective students can apply online through the official Wits website. The application process typically involves submitting an application form, academic transcripts, and other relevant documents. 
What are the entry requirements for Wits?
Entry requirements vary depending on the programme and level of study. Generally, applicants are expected to meet specific academic criteria, including minimum grade requirements. Some programmes may require additional assessments or interviews.
Does Wits offer scholarships or financial aid?
Yes, Wits provides various scholarships and financial aid options to eligible students. These can be based on academic merit, financial need, or specific criteria set by donors. Prospective students are encouraged to explore the university's scholarship opportunities and application procedures.
What campus facilities are available at Wits?
Wits offers state-of-the-art facilities, including libraries, laboratories, research centers, sports complexes, student residences, and a variety of student support services. The campus provides a vibrant and inclusive environment for academic and extracurricular activities.
The University of The Witwatersrand (Wits) stands as a symbol of academic excellence in South Africa. With its rich history, diverse academic programs, and notable alumni, Wits continues to shape the future through its commitment to education, research, and social impact. Whether you're a prospective student or simply curious about the university, Wits offers a world-class learning experience that fosters personal growth.