UPSA HOSTEL FEES 2022
University of Professional Studies, Accra is Ghana's foremost professional tertiary institution that has provided both academic and professional higher education for the past fifty years.

It is the oldest Ghanaian human resource development institution in professional Accountancy and Management.
UPSA students come from different backgrounds hence the hostel provides unique opportunities for learning about each other's experiences – balance of individual freedom with a sensitivity to and respect for the rights of others.
www.merriam-webster.com defines fees as a a sum paid or charged for a service.
Below is the list of UPSA Hostel fees 2022.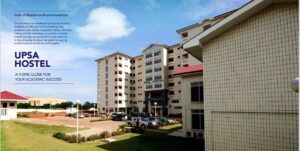 UPSA Hostel Fees 2022
| | | | |
| --- | --- | --- | --- |
| Occupants | Fees | Hall Dues | Total |
| 4 in a room | GH¢ 1,700 | GH¢ 60.00 | GH¢ 1,760.00 |
| 2 in a room | GH¢ 3,300 | GH¢ 60.00 | GH¢ 3,360.00 |
For further enquiries, you can contact the Accounts Directorate on 0322-499074.
FAQs
How do I pay for UPSA hostel?
Hostel fee payment procedure is the same as academic facility user fee payment (you pay into the University Access Bank account, the money will be transferred into your wallet, then you disburse according to other Hostel fee items on the portal).
Does UPSA pay fees yearly?
Fees charged per academic year are supposed to be paid by two installments i.e. 50% at the beginning of the first semester and the remaining 50% at the start of the second semester. Full payment (100%) is. however, accepted if the student can afford it.
How many halls does UPSA have?
four residence halls
Students are affiliated to the University's four residence halls namely: Opoku Ampomah, Nelson Mandela, Liberty and Yaa Asantewaa.
Does UPSA accept D7 in English?
Entry Requirements (Diploma)
WASSCE applicants must have passes (i.e. A1-D7) in three core subjects including English Language, Mathematics and Integrated Science/Social Studies in addition to passes (i.e. A1-D7) in any three elective subjects.
Is UPSA public or private University?
public university
The University of Professional Studies (UPSA) is a public university in Accra, Ghana that was formerly known as the Institute of Professional Studies (IPS).
Can I change my course after admission to UPSA?
The programme including the session offered on admission cannot be changed or deferred.
How many students are in UPSA?
20.000.
With more than 20,000 local and international students from countries across the globe, we groom our students through a full collegiate, co-curricular and extracurricular experience that prepares them to excel in a dynamic world.
How do I book UPSA hostel?
Access the University of Professional Studies – UPSA Hostel Portal via upsahostels.com and find out how to register, login to book accommodation, apply for bed registration as well as Check out UPSA Hostel Fees.
Find out how you can book a room at UPSA Hostel Here.
Does UPSA offer weekend courses?
The University of Professional Studies, Accra (UPSA), in the quest to become a Centre of academic excellence, has introduced new programmes and varied sessions (morning, evening and weekend) to meet contemporary socio-economic and human resource challenges.
How do I get my admission letter from UPSA?
Log on to admission.upsa.edu.gh and use your 13-digit on-line serial number(OS) on the receipt issued to you at the Bank to access your admission letter.
This article was written to enlighten you on UPSA Hostel fees 2022.
If you got value, share this article with your friends on social media platforms to show your support.
Do not hesitate to use the comment space below if you have any questions, concerns or thoughts.