Why Bishop Dag Heward-Mills Resigned From The National Cathedral Board
All You Need To Know About Bishop Dag Heward-Mills Resignation
Why Bishop Dag Heward-Mills Resigned From The National Cathedral Board
In a letter sighted by Citi News Room, one of Ghana's renowned men of God gave three reasons behind his resignation from the National Cathedral Board of Trustees.
Bishop Dag Heward-Mills is a Mega Church pastor of two denominations; United Denomination Originating From Lighthouse Group of Church(UD-OLGC) and the United Organisation of First Love Churches(UO-FLC190).
In August 2022, Bishop Dag Heward-Mills stepped down from the Board of Trustees of the National Cathedral Project.
Why Bishop Dag Heward-Mills Resigned From The National Cathedral Board
According to Bishop Dag Heward-Mills, One crucial reason for his resignation is the fact that his opinions are always neglected.
He said; "I feel that the treatment of the issues I have raised in my several letters has been unfortunate. My letters have been ignored in the past; not attended to for years, and at best addressed flippantly."
"You may recall I have spoken passionately and written extensively about the costs, the design, the location, the fundraising, the mobilization of the churches, and the role of the trustees. These, if heeded, would have made our project more achievable. Generally speaking, my inputs, my opinions, and my letters have been trivialized and set aside."
He further highlighted in his letter to the board that; the role of the state and the church in the project is vague.
"This lack of clarity is robbing our vision of the validity it needs. Over and over, I have asked that we address this appropriately and urgently because there are many dire implications to the trustees and the individuals involved in this project."
Why Bishop Dag Heward-Mills Resigned From The National Cathedral Board
Furthermore, he said, he was shocked to discover that he had not been registered as a director of the National Cathedral of Ghana; a company limited by guarantee though the President had "verbally appointed him as such."
Read On Ablakwa/Rev. Kusi Boateng Brouhaha.
He said verbatim that; "I do not believe this is an oversight but a deliberate exclusion from the Board. Six years is a long time to correct this failure to register me if it was indeed an administrative lapse."
"I have therefore accepted for some time now that I am not a trustee of the National Cathedral, but have still sought to help with the Cathedral because I believe in the President's vision and I do not have to be a legally registered trustee to do so. I refer to myself in this letter as a trustee because even though I am not privy to most of the weighty decisions of the Board I am referred to as such."
Why Bishop Dag Heward-Mills Resigned From The National Cathedral Board
On the other hand, the National Cathedral Board of Trustees have publicly told Bishop Dag Heward-Mills that;  he can't have his views accepted always.
Chairperson of the National Board of Trustees, Apostle Prof. Opoku Onyinah, former Chairman of the Church of Pentecost has also denied portions of Bishop Dag Heward-Mills' Claims.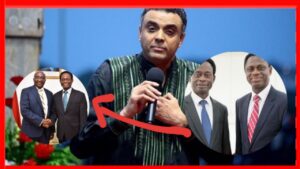 FAQs
Who is the wife of Bishop Dag Heward Mills?
Adelaide Heward-Mills
Where was Bishop Dag Heward born?
Dag Heward-Mills was born on May 14, 1963 in London to Elizabeth and Nathaniel Heward-Mills. Later, they moved to Ghana where he later attended Achimota School.
Who is the first son of Dag Heward Mills?
David Heward-Mills is the first son of Bishop Dag Heward-Mills. He acquired a doctors certificate in Medicine in Ukraine from 2008 to 2014. After, he began his service to the nation. David worked as a physician at one health centre in Columbia in the United States of America.
Is Dag Heward a Ghanaian?
Dag Heward-Mills is a Ghanaian Minister based in Accra, Ghana. He is the founder and Presiding Bishop of the Lighthouse Chapel International. He is also a prolific author, conference speaker, evangelist, apostle and theologian.
How many children is Bishop Dag having?
Bishop Dag Heward-Mills is legally married to Adelaide Heward -Mills. She is the mother of the four (4), philanthropist, a lawyer and a preacher. Bishop Dag Heward-Mills and Adelaide Heward-Mills gave birth to two (2) males and two (2) females making four (4) children.
This article was written to feed you on the latest news on Bishop Dag Heward-Mills and the National Cathedral
If you got value, share this article with your friends on social media platforms to show your support.
Do not hesitate to use the comment space below if you have any questions, concerns or thoughts.