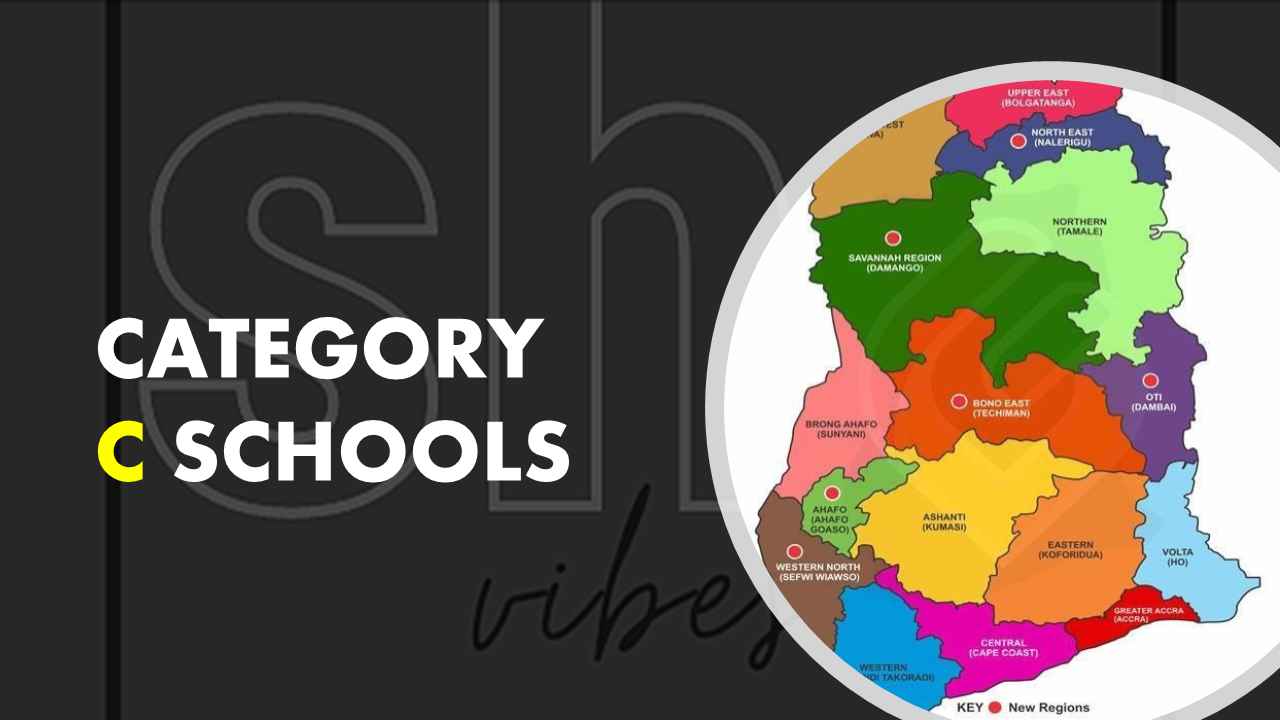 The following are classified category C schools in Ashanti Region.
The Free Senior High School Secretariat classify schools with due consideration for many parameters. Some may include infrastructure, academic performance  among many other factors.
Various entities have different criteria for categorizing schools.
The following are classified as Category C schools in the Ashanti Region. .
Bodwesango Senior High C
Afigyaman Senior High School C
Adugyama Comm. Senior High C
Mankranso Senior High C
Jacobu Senior High/Tech. C
Tweapease Senior High School C
Manso-Adubia Senior High C
Mansoman Senior High C
Esaase Bontefufuo Snr. High/Tech. C
Agogo State College C
Owerriman Senior High .                        Banka Comm. Senior High C
Ofoase Senior High/Tech C
Juaso Senior High/Tech C
Parkoso Comm. Senior High C
Atwima Kwanwoma Snr High/Tech C
Kwanwoma Senior High/Tech C
Adobewora Comm. Senior High C
Nyinahin Cath. Senior High C
Nkawie Senior High/Tech C
Barekese Senior High C
Wesley High School, Bekwai C
St. George's Senior High Tech. C
Bosomtwe Oyoko Comm. Senior High C
Osei Adutwum Senior High C
St. Sebastian Cath. Senior High C
Ejisu Senior High/Tech C
Ejisuman Senior High C
Bonwire Senior High/Tech C
Achinakrom Senior High C
Ejuraman Anglican Senior High C
Akwesi Awobaa Senior High C
Pentecost Senior High, Kumasi C
Uthmaniya Senior High, Tafo C
Agric Nzema Senior High, Kumasi C
Kumasi Senior High/Tech C
Adventist Girls Senior High, Ntonso C
Adanwomase Senior High C
Kofi Adjei Senior High/Tech C
Antoa Senior High C
Simms Senior High/Com. C
Gyaama Pensan Senior High/Tech C
Amaniampong Senior High C
Opoku Agyeman Senior High/Tech C
St. Joseph Sem/Senior High, Mampong C
Obuasi Senior High/Tech C
Namong Senior High/Tech C
Asuoso Comm. Senior High C
Akumadan Senior High C
Nkenkansu Community Senior High C
Presby Senior High/Tech, Kwamang C
Tijjaniya Senior High C
Effiduase Senior High/Tech C
Effiduase Senior High/Com C
Dadease Agric Senior High C
Bodomase Senior High/Tech C
Okomfo Anokye Senior High C
Adu Gyamfi Senior High C
Sabronum Methodist Senior High/Tech C
Prince Of Peace Girls C
Jubilee Senior High C
Church Of Christ Senior High C
Kurofa Methodist Senior High C
Wiafe Akenten Presby Senior High C
Spiritan Senior High C
Onwe senior High Senior C
Methodist Technincal Institute C
St. Michael Tech/Voc Inst C
J.A. Kuffuor Senior High School C