An Inspiration From A Young Man To The Youths.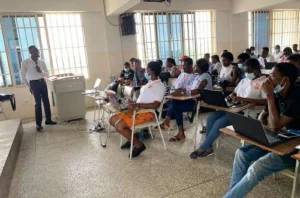 A man fights for what he wants, never gives up, and eventually achieves his wildest dreams.
When I had admission to Prempeh college, it was a dream come true. Unfortunately, this dream was cut short due to financial constraints. I had no other option than to go to Sankofa Senior High. A school that people do not regard at that time. But I realized that it is not about where you are that determines who you will be, but the people you learn from and how you apply the knowledge gained. I also realized that no one can do it better for you than yourself.
Grateful I am, I must say to Agya Nico , who gave me a full scholarship to pursue my senior high school education and took me as a son, and I was one of his favorite students that he mentored and nurtured. I remember the first time he called me to come and teach my colleagues mathematics. I was shivering under his deep voice and pointed stick which never spare the rod to spoil the child. I thought I was being forced to master the art of teaching, not knowing he was preparing me for something great. Not forgetting Augustine Amankwah, Prince Ray Ayidah, David Amankwaah among other, today I am much grateful to be a proud #Sankofedien.
Here I am today in the University of Professional Studies Accra, teaching and mentoring over 1000s of students. Perhaps, I was born an engineer, who is passionate about bringing innovation to this world. But along the line, I have also discovered and developed myself as a Startup Engineer.
Dreams are the seedlings of reality. I am now one of the youngest administrators and managers of UPSA Enterprise and Innovation Center UEIC, managing, coaching, mentoring, and teaching national service personnel and students of the University of Professional Studies, Accra. I am so grateful for the opportunity management of UPSA has given me to impact lives. I could not have come this far without Dr Fidelis Quansah, the Dean of the Faculty of Management Studies. I say God richly bless you.
This humble beginning will go a long way to impact the generations to come.
#If not me, then who?
#If not now, then when?
Source: ghopera.news.