Colleges of Education to become universities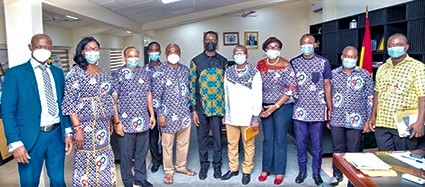 Some colleges of education in the country will be upgraded to full-fledged university status, the Minister of Education, Dr Yaw Osei Adutwum, has hinted.
He announced that plans were far advanced in that direction, explaining that the move would ensure that such universities would be able to operate on their own and run their own programmes towards the development and transformation of the nation.
"After operating for between 50 and 100 years, why must such colleges continue to be affiliated to other universities although they qualify to be autonomous," he said.
Dr Adutwum announced this on Monday, March 3, 2022, when the new leadership of the Ghana National Association of Teachers paid a courtesy call on him in Accra.
The meeting was to introduce the new leaders who were elected into office in January during their quadrennial congress in Kumasi.
Collaboration
He assured the new leadership of GNAT of his readiness to continue working with them for the development of education in the country.
"As development partners, there is the need for all of us to think about how best to support the transformation agenda of the country which stand the chance of turning around the development of the country", Dr Adutwum said.
The education minister, who is the Member of Parliament for Bosomtwe, said a memo on the upgrading of the colleges had been sent to Cabinet for study and approval before the necessary action and process would be followed.
Commendation
The education minister commended the teacher unions in the country, especially GNAT, for their role in promoting the development of education in the country.
He urged the leadership of unions to make it a point to use dialogue in resolving issues at all times in order to ensure that peace prevailed at the labour front instead of strikes which usually brought about agitations.
"As a matter of fact, my focus now is to ensure that teachers get the best of support in capacity building as well as enhancing their welfare," he said.
Teachers Welfare Desk
He announced that a desk called "teachers welfare desk" had been established in his office with the sole objective of receiving information and complaints about teachers and working swiftly to resolve them.
Dr Adutwum said there was no need to use the media for the resolution of challenges but rather use it to promote development initiatives for the general populace to appreciate what was being done to improve the education sector across the country.
The New President of GNAT, Reverend Isaac Owusu, assured the minister of the support of the organisation towards the development of the various initiatives and interventions being implemented by the government to transform the nation's education.
He stated that the unions were only interested in supporting the welfare of teachers and how to improve their effective teaching and learning.
Source: Graphic.com.gh