HOSTELS IN UENR
The prestigious University of Energy and Natural Resources attracts students from far and near. As such, the need for residential facility to accommodate them.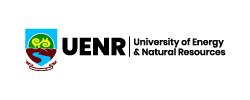 What Is A Hostel?
www.merriam-webster.com defines a hostels as an inexpensive lodging facility for usually young travelers that typically has dormitory-style sleeping arrangements and sometimes offers meals and planned activities.
The University of Energy and Natural Resources has only two students' residential facility which are unisex. They are;
New Hostel

GETFund Hostel
The hostels have a tranquil environment for learning and give students the opportunity to attend lectures punctually.
The hostels also have facilities such as television (TV) rooms, basketball court, volleyball court, salon and supermarket.
Because the hostels are not enough to meet the increasing number of students the school admits, the university runs an In-Out-Out accommodation system for their hostel.
Typically, first year students are offered the accommodation but it is on a early bird basis.
How To Apply For Hostels In UENR

To apply for accommodation, you can use the step by step guide below;
Login to hostel.uenr.edu.gh with your reference number (refer to your admission letter for the reference number).
Click on the

Book Now

of your preferred hostel and you will receive a notification when the booking is successful.
Make payment within five working days only when your booking is successful to secure your accommodation.
NOTE: Hostel fees should be paid independently from the academic fees.
Pay the exact amount apportioned to the hostel you booked.
You are required to download the 

Tenancy Agreement Form

when your booking is approved and submit it on the day of arrival.
You can keep visiting the site to check your Booking status after payment.
NOTE: Pay Hostel fees at any of the underlisted banks ONLY when your booking is successful.
Fidelity Bank

Zenith Bank

GCB
Aside from the school hostels, there are hostels around the University of Energy and Natural Resources.
List Of Hostels Around UENR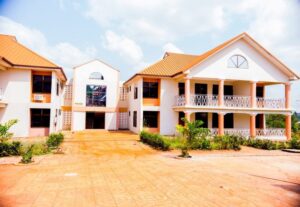 Below are a list of hostels around UENR.
DayIn Hostel

Eric Hostel

E-Step Hostel

Checkman Hostel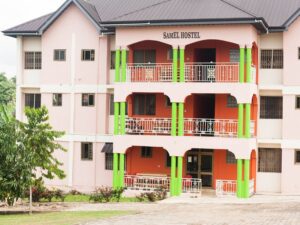 Patience Hostel

Samel Hostel

Premier Hostel

Baidoo Hostel
FAQs
Does UENR have halls?
The University of Energy and Natural Resources has no halls but a state of the art hostel that is the GetFund hostel which offers students on-campus accommodation.
Is UENR a good university?
UENR is an emerging centre of teaching, learning and research in energy, engineering and the sciences. Students and staff interact freely in a serene and secure environment to achieve academic excellence. UENR is a public university located in Sunyani with very nice and pleasant environment.
How many campuses does UENR have?
The University is a multi-campus setup and currently has three campuses located in Sunyani, Nsoatre, and Dormaa Ahenkro.
This article was mainly written to enlighten you on the hostels available in UENR.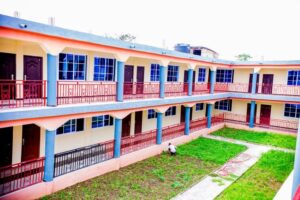 READ ALSO: UENR LOGO.
If you got value, share this article with your friends on social media platforms to show your support.
Do not hesitate to use the comment space below if you have any questions, concerns or thoughts.