Prestige Hostel knust
Student Accommodation means a building, or part of a building, used for the sole purpose of providing residential accommodation to students during academic term times at a subsidized fee. As a result of the huge number of students that are admitted each year by the Kwame Nkrumah University of Science and technology, the school's administration has made provisions for students who might not be able to gain accommodation in the traditional halls of the university by providing hostel facilities within and off campus.
Basic Information of Prestige hostel

Location – Kotei
Constituency/Zone
Kotei-Gyinyase
Owner's Name
Eric Asuboteng
Prestige Hostel Owner's Contact
0244025917
Manager's Name
Joshua Badiou
Porter's / Assistant Manager's Name
Nana Poku
Digital Address
AK-566-7710
Senior Tutor
Dr. Titus Ebenezer Kwoffie
Counselor's Name
Ms. Akua Afriyie Addae
Counselor's Contact
0244606579
Facilities
>Fire Extinguisher
>Cleaners
> Stand-by Generator
> Security Personnel

Potential Price Range
Two In-One Room
GH₵ 3,000.00 – 4,300.00
Three-In One Room
GH₵ 2, 775.00 – 3,438.00
Four In One Room
GH₵ 2,200.00 – 2,550.00
NB: One in a Room is Not Recommended !!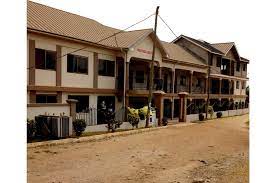 If you found this article helpful, we would be grateful if you kindly do well to subscribe, give us a like, and do not forget to share.
Also, let us know in the comment section if there is anything we can help you with or if you have any questions or suggestions.
Thank you and see you again…