Discover the University of the Witwatersrand ranking 2023 and its standing as a leading educational institution in South Africa. Read our content to learn about Wits' impressive rankings, factors considered in assessments, and frequently asked questions about the university's ranking.
The University of The Witwatersrand is widely recognized as one of the top universities in South Africa and continues to make its mark in the global education landscape. In this blog post, we will delve into Wits' ranking for the year 2023, highlighting its achievements and explaining the factors considered in assessments. Whether you're a prospective student or simply curious about the university's standing, join us as we explore Wits' commitment to academic excellence.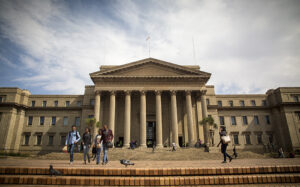 University of the Witwatersrand Ranking 2023
Wits has maintained its position as one of the leading universities in South Africa and continues to receive accolades on both national and global scales. While specific rankings may vary across different assessment systems, Wits consistently features prominently in various reputable rankings and evaluations. 
The University of the Witwatersrand ranks 1st in South Africa, 2nd in Africa and 424th in the world according to QS World University Rankings 2023.
Factors Considered in Assessments
The rankings of universities are typically determined by a range of factors, which may include:
Academic Reputation:

Wits' academic reputation plays a crucial role in its rankings. This encompasses the quality and impact of research conducted by faculty members, the calibre of teaching and learning, and the recognition received from peers in academia.
Research Output:

The quantity and quality of research publications, citations, and collaborations contribute significantly to university rankings. Wits' commitment to research excellence and innovation greatly influences its standing in this aspect.
MUST READ: Programmes Offered At The University of The Witwatersrand.
International Recognition:

Wits' international collaborations, partnerships, and the global visibility of its faculty and research contribute to its ranking position. Engagements with international institutions and participation in global academic networks can enhance the university's reputation.
Student Satisfaction:

Factors such as student satisfaction, graduation rates, employability of graduates, and student-to-faculty ratios can also impact university rankings. Wits' dedication to providing an enriching educational experience contributes to positive outcomes in these areas.
FAQs
Which rankings consider Wits' standing?
Wits' ranking is evaluated by various reputable ranking systems, such as the QS World University Rankings, Times Higher Education World University Rankings, and Academic Ranking of World Universities (ARWU). These assessments provide insights into Wits' global position and its performance in specific areas.
How does Wits compare to other South African universities?
Wits consistently ranks among the top universities in South Africa. Its strong academic reputation, research output, and global recognition contribute to its competitive standing. However, rankings may vary depending on the specific assessment criteria used by different ranking systems.
Is ranking the sole indicator of a university's quality?
While rankings offer valuable insights, they should not be the sole determinant of a university's quality. It's important to consider other factors such as the specific programmes, faculty expertise, research opportunities, campus facilities, and the overall fit with your educational and personal goals when choosing a university.
Does Wits' ranking affect admission decisions?
Wits considers various factors when making admission decisions, and while rankings can reflect the university's academic standing, they are not the sole criteria for admission. Each programme may have specific requirements, and applicants are assessed based on their qualifications, achievements, and potential for success in their chosen field of study.
ALSO SEE: Johannesburg: The City Where Wits Is Located.
The University of the Witwatersrand (Wits) continues to shine as a leading institution in South African education, garnering recognition and commendation through its impressive rankings. By maintaining a commitment to academic excellence, research innovation, and student success, Wits solidifies its position as a preferred destination for learners seeking a transformative educational experience. As you explore your educational options, Wits' remarkable ranking reinforces its reputation as a university dedicated to shaping the future of knowledge and contributing to society's progress.