Discover Johannesburg: the city where Wits is located. Read our content to learn about Johannesburg's rich history, cultural diversity, top attractions, and frequently asked questions about this vibrant South African city.

Johannesburg, often referred to as Joburg or Jozi, is a dynamic city located in the Gauteng province of South Africa. It is not only the largest city in the country but also home to the prestigious University of The Witwatersrand. In this content, we will delve into Johannesburg's captivating history, explore its cultural diversity, highlight popular attractions, and answer some frequently asked questions about the city.
MUST READ: How To Apply To Wits For 2024 Academic Year.
History and Cultural Diversity Of Johannesburg: The City Where Wits Is Located
Johannesburg has a rich and complex history that is deeply intertwined with South Africa's story. Founded in 1886 after the discovery of gold, the city rapidly grew into a mining hub, attracting people from all over the world. Today, Johannesburg stands as a melting pot of diverse cultures, with residents hailing from various backgrounds, including African, European, Asian, and more. This cultural fusion is reflected in the city's cuisine, arts, music, and festivals.
Top Attractions Of Johannesburg: The City Where Wits Is Located
Apartheid Museum:

Offering a poignant and immersive experience, the Apartheid Museum chronicles South Africa's history of racial segregation and the struggle for freedom.
Constitution Hill:

This historical site once held prisoners, including Nelson Mandela and Mahatma Gandhi. It now houses the Constitutional Court and provides insights into the country's constitutional democracy.
Maboneng Precinct:

Located in the downtown area, Maboneng is a vibrant and creative hub filled with art galleries, trendy cafes, boutiques, and a lively atmosphere.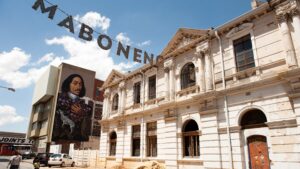 Johannesburg Botanical Garden:

Escape the hustle and bustle of the city at this beautiful garden, featuring stunning flora, picnic spots, and walking trails.
FAQs
Is Johannesburg safe for tourists?
Like any major city, Johannesburg has certain areas with higher crime rates. However, by taking necessary precautions, such as staying in well-known areas, using reliable transportation, and being vigilant, tourists can have a safe and enjoyable experience. It is advisable to consult local authorities and travel advisories for the latest safety information.
How do I get around Johannesburg?
Johannesburg has an extensive transportation system, including buses, taxis, and ride-sharing services. The Gautrain, a rapid rail network, provides efficient connectivity within the city and to other major areas. It's recommended to plan your transportation in advance and choose reputable providers.
READ ALSO: University Of The Witwatersrand: A Leading Institution In South Africa.
What is the best time to visit Johannesburg?
Johannesburg has a pleasant climate, with warm summers and mild winters. The city can be visited all year-round, but the months from September to May offer comfortable temperatures for outdoor activities and sightseeing. However, it's important to note that rainfall is more frequent during the summer months.
Are there accommodations near Wits University?
Yes, there are several accommodation options near Wits University. These include on-campus residences, off-campus student apartments, and nearby hostels or guesthouses. It's recommended to explore different options based on your preferences and budget.
Johannesburg is a city that captivates visitors with its rich history, cultural diversity, and vibrant atmosphere. From exploring historical landmarks to immersing yourself in its arts and culinary scene, Johannesburg offers a unique and memorable experience. As the home of Wits University, the city also provides an inspiring environment for students pursuing their academic dreams. Whether you're a tourist or a student, Johannesburg promises to leave a lasting impression on your journey through South Africa.