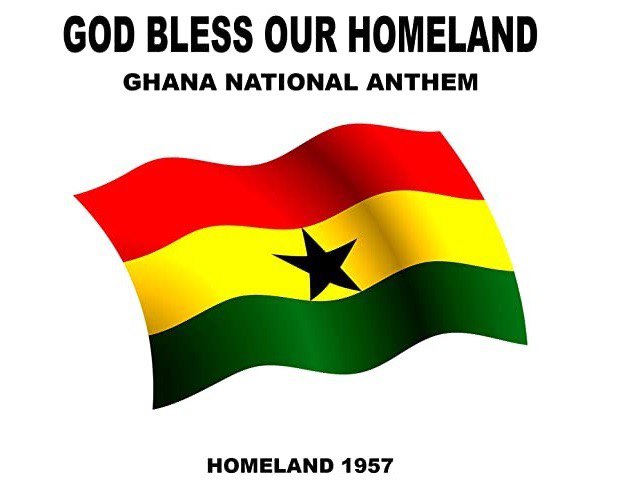 Who Composed The Ghana National Anthem?
www.wikipedia.com defines an "Anthem" as "a song or hymn of praise or gladness."
The Europeans monarchies were the first to start this trend when they adopted royal anthems.
Ghana, one of the colonies of British used the British National Anthem titled "God Save the Queen" for all its ceremonial activities which included International events until she gained independence in 1957.
There was a great need for a National Anthem after Ghana gained independence.
Many submissions were made but only Philip Gbeho's own won.
Since then, the Ghana National Anthem has been played at all events in Ghana.
Who Composed The Ghana National Anthem?
However, it must be noted that, the anthem was originally composed by Philip Gbeho and sung to lyrics written by Emmanuel Pappoe -Thompson.
The words were revised by a literary committee in the Office of the then Head of State, Kwame Nkrumah. 
Michael Kwame Gbordzoe has made claims to the current lyrics being used saying that it was written by him after the overthrow of President Nkrumah. 
A competition was held and Kwame Gbordzoe, who was then a student at Bishop Herman College, presented the current lyrics which was chosen to replace "Lift High The Flag Of Ghana" which had been officially adopted after independence and used as Ghana's Lyrics national anthem during Nkrumah's presidency.
Thus, although Philip Gbeho's composition is still being used, the current lyrics beginning "God Bless our Homeland Ghana" do not originate from him.
"God Bless Our Homeland Ghana" is now the national anthem of Ghana, since 1966.
Below are the lyrics of Ghana's current National Anthem.
The Ghana National Anthem Lyrics.
God bless our homeland Ghana,
And make our nation great and strong,
Bold to defend forever
The cause of Freedom and of Right.
Fill our hearts with true humility
Make us cherish fearless honesty,
And help us to resist oppressors' rule
With all our will and might evermore.
2. Hail to thy name, O Ghana
To thee we make our solemn vow;
Steadfast to build together
A nation strong in Unity;
With our gifts of mind and strength of arm,
Whether night or day, in the midst of storm,
In every need whate'er the call may be,
To serve thee, Ghana, now and evermore.
3. Raise high the flag of Ghana,
And one with Africa advance;
Black star of hope and honor,
To all who thirst for liberty;
Where the banner of Ghana free flies,
May the way to freedom truly lie
Arise, arise, O sons of Ghanaland,
And under God march on forevermore.
I hope this article answered your question.
Click here to know Colleges Affiliated To UG.
Check out BA Courses In Legon, BA In Education Courses and City Campus.
Click Here to know more about the UG Department of English.
Ever heard about the University of Ghana Credit Union? Click Here to read more.
Read more about the University of Ghana Sports Directorate.
Check out Public Universities In Ghana.
Get to know Private Universities In Ghana.
Read about the Garden City University College.
Click Here to know how to apply to Central University.
Know more about Africa's Finest Private University, Ashesi University.
Click Here to know more about Pentecost University.
Check out the Dominion University College.
How well do you know Takoradi Technical University? Find out Here.
Read more about Ghana's Premier Technical University, Accra Technical University.
Click Here to know more about Sunyani Technical University.
No knowledge is a waste right? Click here to know about Technical Universities In Ghana.
What do you know about Ho Technical University?
Check out Bolgatanga Technical University.
Kindly note that this information will constantly be updated so keep visiting this page to read more.
Do not hesitate to use the comment space below if you have any questions or concerns about the recruitment.
Kindly stay tuned and share this article with your friends.
Thanks for reading.