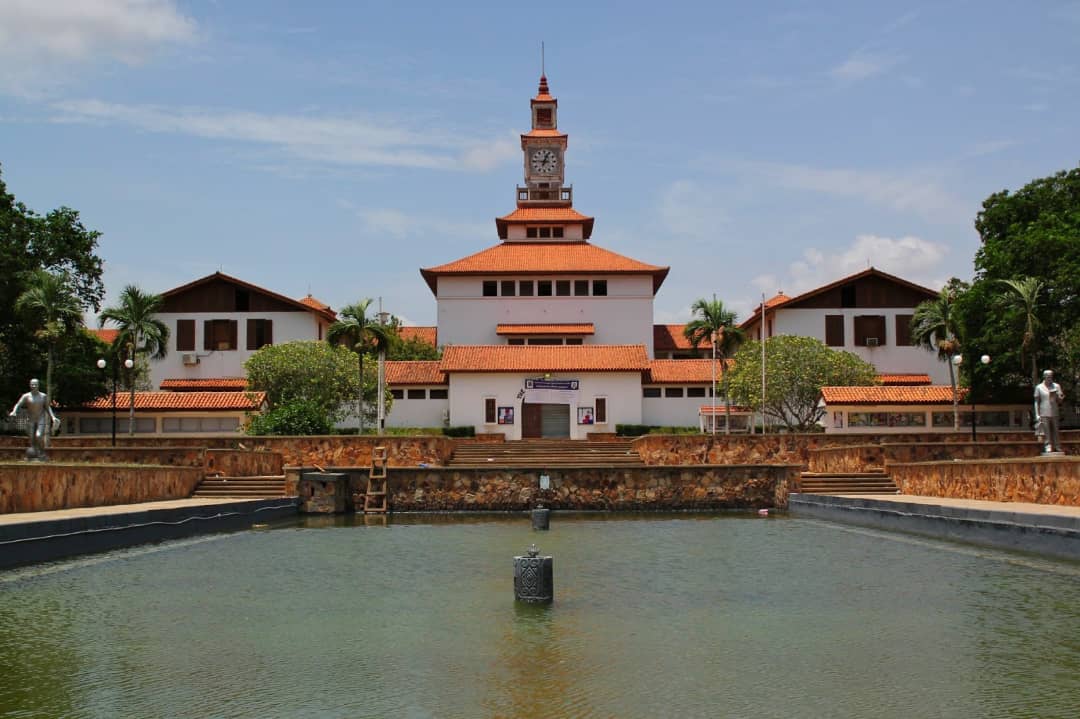 UG Department Of English.
The University of Ghana is one of Ghana's leading Universities and it is located at Legon, a few kilometres away from the centre of Accra.
According to https://www.usnews.com, University of Ghana ranked 916th in Best Global Universities.
According to https://www.ug.edu.gh, The 2022 AD Scientific Index, which has more focus on the biophysical sciences, places the University of Ghana as first in Ghana, 15th out of the 2,049 universities in Africa, and at 1,704 out of 14,284 universities surveyed globally.
The University of Ghana is also known as the Most Beautiful University in Ghana.
History.
The University of Ghana Department of English was established as one of the pioneer departments of the Arts Faculty in 1948.
At its inception, the Department taught courses that were patterned after similar departments in the UK. However, from the 1960s, the dominant theme of the Department of English has been the need to make its courses reflect the requirements of the nation, Ghana.
The Department's Syllabus for English Studies for the Bachelor of Arts degree gives students the opportunity to offer a variety of courses that the Department believes will prepare them to meet some of the demands or challenges of the job market.
Business and Expository Writing and Children's Literature are some of the new specialisations which the department offers. The African Literature courses are also very attractive to both local and foreign students.
The courses have actually revived interest in the graduate programmes on which student enrollment is increasing significantly with a bias towards research in Ghanaian Literature or Comparative Studies in African and other Literatures.
In the 2009/2010 academic year, the Department of English implemented its revised syllabus for English studies. This revision was intended to:
Offer courses that meet the educational, economic, social, and political challenges of the country;
Offer programmes which students find rewarding as they pursue future career objectives;
Give students the requisite language/literary skills to make them effective in their job situation.
UG Department Of English Objectives and Vision.
Vision:
The Department of English aspires, through constantly updated language and literary courses and research, to serve the changing needs of times.
Mission:
To develop and deliver teaching, learning and research programmes that equip students with the requisite language and literary knowledge and skills that will make them effective in their job situations, and to advance the general understanding of what it means to be human.
UG Department Of English Contact Details.
Postal Address:
Department of English
University of Ghana
Legon
P. O. Box LG 129
Legon, Accra
Ghana
Phone:
+233 20 280 8736 / +233 54 182 5797
Ext.:
Head of Department Office – 6163
General Office – 6227.
email: english@ug.edu.gh
For further information and clarification, you can check their official website at www.ug.edu.gh.
I hope this article answered your question.
Please check out GES SHS Placement.
Also check out the GES Promotion Portal.
Get to know about the GES Recruitment.
Do you want to know more about the Ghana Education Service? Find out Here.
Get to know more about NaSIA and NaCCA.
Know how to get Your Teachers' Registered Number Through The NTC Portal Here.
Also check out NTC Here.
Check out the NTA Portal Here.
Know how to apply for the NTC Licensure Exams.
How well do you know the University Of Education, Winneba? Read Here.
Know more about the Ministry Of Education.
Guess who your Minister of Education is? Get to know him Here.
Read on Sexual Education In Ghana.
Know more about GhanaPay.
Click here to know Colleges Affiliated To UG.
Check out BA Courses In Legon, BA In Education Courses and City Campus.
Kindly note that this information will constantly be updated so keep visiting this page to read more.
Do not hesitate to use the comment space below if you have any questions or concerns about the recruitment.
Kindly stay tuned and share this article with your friends.
Thanks for reading.