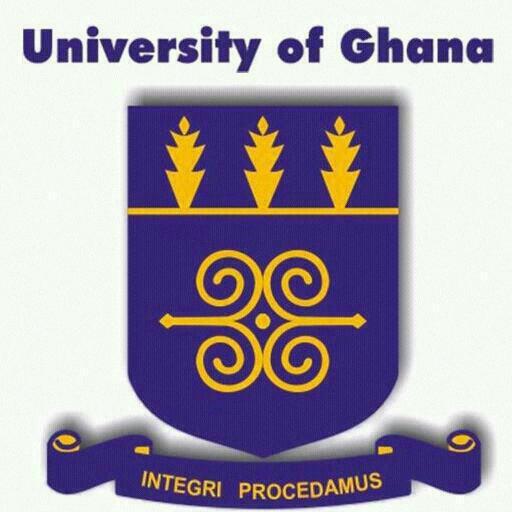 University of Ghana Logo.
The University of Ghana, the premier university and the largest university in Ghana was founded as the University College of the Gold Coast by Ordinance on August 11, 1948 for the purpose of providing and promoting university education, learning and research.
The University of Ghana is one of Ghana's leading Universities.
According to https://www.usnews.com, University of Ghana ranked 916th in Best Global Universities.
According to https://www.ug.edu.gh, The 2022 AD Scientific Index, which has more focus on the biophysical sciences, places the University of Ghana as first in Ghana, 15th out of the 2,049 universities in Africa, and at 1,704 out of 14,284 universities surveyed globally.
The mission of the University of Ghana is "to develop world-class human resources and capabilities to meet national development needs and global challenges through quality teaching, learning, research and knowledge dissemination".
Meaning Of University Of Ghana Logo.
Blue shield with three "AYA" standing upright in top half and "DWENINMENTOASO" in the middle of bottom half- all embossed in gold.
Logo Designed by A.M. Opoku.
Latin Motto 'Integri Procedamus' rendered by Alexander Adum Kwapong.
"AYA" (Akan word for a fern) is an Adinkra symbol. The "Aya" grows straight and it is used here to represent truthfulness and an ability to stay upright.
Ram's Horns: "Dweninmen" (Akan word for Ram's Horn) is an Adinkra symbol. Here, two interlocking ram's horns (DWENINMENTOASO) have been used to symbolize strength and a call to pursue a path of integrity.
"INTEGRI PROCEDAMUS" means to Proceed With Integrity.
For further information and clarification, you can check their official website at  www.ug.edu.gh..
I hope this article answered your question.
Know how to get Your Teachers' Registered Number Through The NTC Portal Here.
Also check out NTC Here.
Check out the NTA Portal Here.
Know how to apply for the NTC Licensure Exams.
How well do you know the University Of Education, Winneba? Read Here.
Know more about the Ministry Of Education.
Guess who your Minister of Education is? Get to know him Here.
Read on Sexual Education In Ghana.
Know more about GhanaPay.
Click here to know Colleges Affiliated To UG.
Check out BA Courses In Legon, BA In Education Courses and City Campus.
Click Here to know more about the UG Department of English.
Ever heard about the University of Ghana Credit Union? Click Here to read more.
Read more about the University of Ghana Sports Directorate.
Kindly note that this information will constantly be updated so keep visiting this page to read more.
Do not hesitate to use the comment space below if you have any questions or concerns about the recruitment.
Kindly stay tuned and share this article with your friends.
Thanks for reading.